Whether you're hosting a special event, a regular diner or first-time visitor to Garbo's, Executive Chef Kira Lewis and her skilled, dedicated staff will fill your meal with adventure and flavor to suit your tastes and needs.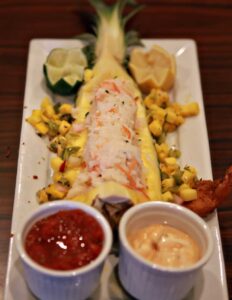 A Rhode Island native, Chef Kira received her culinary degree at Johnson & Wales University of Miami and has more than 30 years of experience as a chef. Prior to her move to Santa Fe in 2015, Chef Kira was an executive chef at a Jackson, Fla., country club that catered to the needs of more than 700 members.
Chef Kira is always up for a challenge and loves experimenting with various cooking styles, techniques and foods. She encourages Montecito residents to bring in their own family recipes and to make suggestions about the foods her kitchen serves
Each month The Montecito hosts a Passport Buffet that is open to residents, their guests and Social Club members*.
Garbo's boasts a diverse menu serving an array of dietary preferences including vegan, vegetarian and gluten-free options. Chef Kira's team can accommodate low fat, low sugar and sugar-free diets.
Daily breakfast, lunch and dinner specials keep the menu fresh and exciting to the taste buds. Your eyes will be likewise delighted by the displays of food when you enter Garbo's.
The Montecito has several community spaces perfect for hosting events and activities for groups from 10 to 100, including the Capote Library, Oscar Wilde Theatre, Starlight Lounge & our spacious back patio.
For more information on catering and special events call The Montecito at 505-428-7777.
Sat – Tues: 7:30-9:30am Breakfast / 12-2pm Lunch/ 5-7:30pm Dinner
Wed – Fri; 7:30-9:30am Breakfast / 12-2pm Lunch / 5-8pm Dinner