About the Montessori Approach
The brand new stand-alone Montecito Memory Care Community is a single-story campus comprising 40 private studios specifically designed to foster a community-based experience for the residents, their families, and staff caring for them. Group engagement programs establish social roles and a sense of belonging, while singular activity programs cater to the needs of each resident independently.
The combination of programs ensures each member sustains a sense of purpose and engagement while maintaining personal independence.
Whether your loved one is in the early stages of dementia or they have been fighting the disease process for many years, The Montecito's Montessori-inspired lifestyle program fosters independence, belonging and purpose, while providing the safety and security those suffering from dementia require.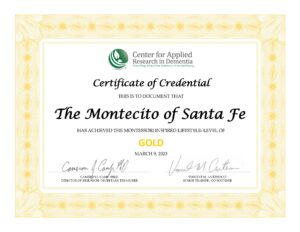 The Montecito is excited to announce that we have received our Gold Certification from The Center for Applied Research in Dementia as a Montessori Inspired Lifestyle Community!
We have taken this program campus wide, so that all our residents can be a part of the program, which includes resident designed and run activities, resident input into things like our menus and fitness classes and creation of social groups such as our garden club, knitting group, volunteer groups and more.
To find out more about The Montessori Inspired Lifestyle go to www.cen4ard.com
Where Comfort and Care Come Together
New State-of-the-Art Memory Care
Six "neighborhoods" help create an intimate, home-like setting
Floor plans prioritize indoor/outdoor activity and engagement
Common area design includes indoor walking paths to encourage exercise and physical wellbeing
Private studio units with full-sized bathrooms
Secure courtyards offer outdoor access and freedom of movement
Caregiver stations allow line of sight observation of residents for safety and security
Secure, locked unit for resident safety
24-hour security system
Montessori Inspired Programming
Offers a "person-centric" care approach that focuses on each resident's strengths
Individually tailored care plans
Emphasis on "can", not "can't"
Provides meaningful activities and social roles
Fosters independence, belonging and purpose
Cultivates self-respect and dignity
Activities encourage personal choice and autonomy