Welcome to a world of independent retirement living beyond compare, at a value that is unrivaled.
Resort-style elegant living at The Montecito Santa Fe boasts unparalleled lifestyle and wellness opportunities. Our state-of-the-art campus offers luxurious senior living that promotes life, health, luxury, and peace of mind.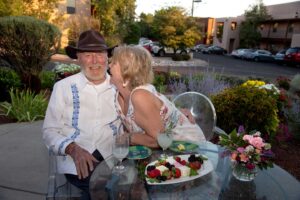 The Montecito is truly exceptional. You see it in a warm smile, a helping hand, at an elegant event, or in everyday life with friends and family. We strive to make your life simpler, allowing you to focus on things you love the most. We are located close to downtown Santa Fe where life is vibrant, peaceful, and rich in culture, arts, and international cuisine. From the innovation of personally tailored care to the welcoming support of an engaging and stimulating community—life begins here.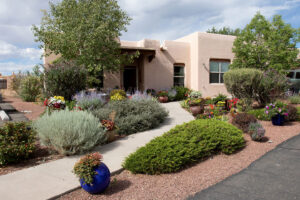 Our picturesque one and two-bedroom homes merge leisure and luxury. The thoughtful design, integrated indoor and outdoor living spaces, panoramic views, and rooms full of warmth and light all promote physical and mental well-being. Whether you enjoy a meal at Garbo's restaurant, a drink and show at Star Light Lounge, or or play a friendly game of pool in our billiards room—your choices are about convenience. Check out that new mystery at the library, or visit the salon, hot tubs, fitness center or spa. Everything you like to do is right here in one place. And that place is home.
Our personal customized services include
Our Concierge is on duty 24/7 to exceed your needs, wants, and desires on a daily basis
Nightly security and a new state of the art digital video surveillance system, will provide you with the peace of mind knowing we are monitoring the area, and there if you need us
Our stylish apartments are equipped with a 24/7 emergency call system should you ever need us
Individual Check-in Service is available, at no extra cost, for those longing for or needing added safety and a higher level of daily monitoring
Our Santa Fe Independent Living Boasts
An elegant, spacious private residence where you have the opportunity to create a home that fully expresses your individual taste and personality
Full access to El Centro and all of the fine amenities and services found throughout the sprawling grounds of The Montecito.
Two meals are provided daily: Breakfast of your choice, of either lunch or dinner prepared by our executive chef, served in our stylish Garbo's Restaurant.
Bi-monthly bed and bath flat linen laundry service
Bi-monthly housekeeping
Exterior and landscaping maintenance
24-hour concierge desk with trained staff always available
Maintenance services seven days a week
Senior Wellness Programs that include preventative health screenings and educational programs
State-of-the-art in-room emergency call system that provides safety, security, and peace of mind
A washer and dryer in every unit
Individually controlled heating and cooling systems
Balconies and patios
Large bedrooms
Stainless steel appliances including full-size frost-free refrigerator/freezer, cooking range, microwave oven with exhaust, disposal, and dishwasher
Social, cultural, and recreational programs
Morning check-in service to assure your well-being and safety
Utilities (except phone and internet) including electricity, heat, air conditioning, water, and basic cable TV
Always a pet-friendly environment
Scheduled transportation services
Retirement redefined at The Montecito Santa Fe